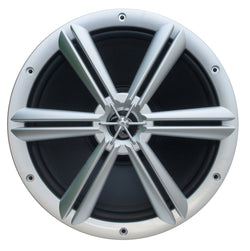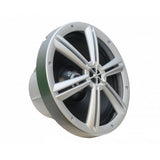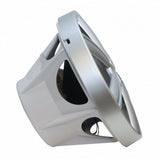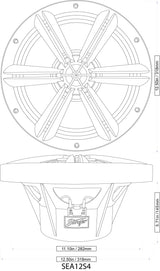 POWERSPORTS / OFFROAD 4-OHM 12" SUBWOOFER
SKU: SEA12S4
$159.00
Description
UV TESTED Exceeds industry standards for years of durability
SALT & FOG TESTED Battle the harshest elements
PRECISION NON-CORROSIVE TERMINALS Create a solid connection in any environment
Give your off-road adventure the bass it deserves with Stinger's 12" adventure-proof subwoofers. Stinger's off-road-ready, 12" Subwoofers deliver, hard hitting, clean, articulate bass wherever the trail or dunes take you. 

UV-tested, marine-grade and ready to handle the harsh elements associated with off-road use. They exceed industry standards significantly, promising years of durability and reliable service.
The precision, non-corrosive terminals of these powersports subwoofers create a solid connection in any challenging environment. These subwoofers have been fully tested in both salt and fog to ensure their ability to battle the elements and still deliver the powerful sound you demand from your oceangoing sound systems.
Audiophiles looking for taking high performance sound off-road, can choose between 10-inch and 12-inch subwoofers, each of which cranks out 300W of peak power with 150W of RMS power, with polypropylene mica-injected cones with 150w /300W of peak power handling.
Butyl rubber surrounds provide the flexibility and durability you need in a marine environment. These carefully chosen surrounds have a far longer life span than the standard rubber surrounds, and they possess the ability to withstand heat, cold and challenging environments, all to keep your subwoofers booming for years to come. 
Features
Fully

 

marinized

 

against salt & freshwater conditions
UV testing exceeds industry standards for years of durability
Salt and fog tested to battle the harshest environments
Precision non-corrosive terminals create a solid connection in any environment
150W

 

RMS

 

/ 300W Peak Power Handling
Polypropylene Mica

 

Injected Cone
Santoprene

 

Surround
Removable Grill
Free-Air, Ported & Sealed Enclosures
1 Year Warranty
Specs
| | |
| --- | --- |
|  SPECIFICATION | SEA12S4 |
| Nominal Impedance (Z) | 4.00 ohms |
| DC Resistance (Re) | 3.6 ohms |
| Resonance Frequency (Fe) | 30.49 Hz |
| Piston Area (Sd) | 0.0530 m2 |
| Force Factor (BL) | 11.53 Tm |
| Mechanical Q Factor (Qms) | 2.89 |
| Electrical Q Factor (Qes) | 0.54 |
| Total Q Factor (Qts) | 0.46 |
| Sensitivity 1W/M (SPL) | 86.76 dB |
| Mechanical Compliance (Cms) | 147.02 mmN |
| Moving Mass (Mms) | 185.32 g |
| Linear Excursion (Xmax) | 3.5mm |
| Volume Acoustic Compliance (Vas) | 58.84 Ltr / 2.08 cu ft |
| Reference Efficiency (NO.) | 0.30% |
| Nominal Power (Pe) | 150 Watts |
| Peak Power | 300 Watts |
| Frequency Response | 30-500 Hz |
| Displacement | 0.10 cu ft/2.83 Ltr |
| Overall Diameter (A) | 12.5in/318mm |
| Cut Out Diameter (B) | 11.10in/282mm |
| Mounting Depth (C) | 5.71in/145mm |
Recommended Enclosures
 Manual