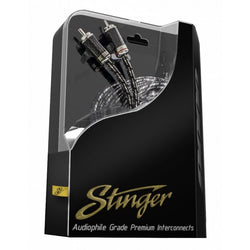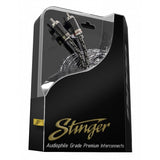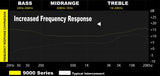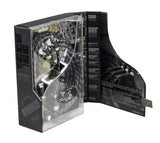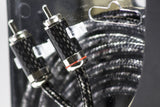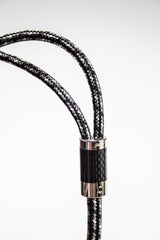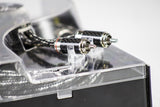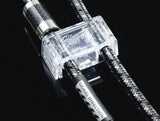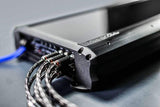 9000: 2 CHANNEL INTERCONNECT 6FT
SKU: SI926
$209.00
Description
Car Audio's Ultimate Interconnect
Designed to deliver the best bass response, openness, tonality, and accuracy possible while drastically reducing electrical resistance and interference. Expertly constructed with 12 individual conductors, 6 left and 6 right, pure silver conductors for full midrange and high frequencies, ultra-long grain pure OFC copper for bass frequencies, and rhodium plated RCA ends for conductivity.
Featuring B.O.D.A technology: Balanced Optimized Dual Alloy connection
2 Channel, 6 ft
Features
6 conductors per channel (pure silver/ pure copper) for a total of 12 conductors (2 Channels)

Separate oversized OFC and Silver conductors provide unmatched sound quality

Continuous connection construction (C3 Tech) provides unmatched signal transfer with no solder joints for true channel separation and connection reliability

Rhodium Plated Split-tip machined metal connector allows better signal transfer

Double Twisted pair winding patterns improve clarity and broaden dynamic range

Black mesh protective jacket looks great and minimizes friction for easy install

Precision Machined "Locking" Metal Ends for the ultimate signal transfer that won't vibrate off

Triple shielding construction for increased noise rejection (dual mylar + braided shield)

Directional double twisted-pair construction provides protection against induced interference

Molded strain reliefs for extra durability

Mono cable design with undersized stopper for ease of installation
Why 9000
Hear All Your Music
Using only the best components, technology, and construction, the engineers at Stinger set a goal to design and build the best audio interconnects available. Their quest resulted in the creation of the Stinger 9000 series premium audiophile-grade interconnect.
Only The Best Components:
Pure Silver, the best metal conductor known to man, run in dual tightly twisted leads and paired with a separate drain lead for unmatched transmission of mid to high frequencies.
Oversized Ultra OFC Long Grain Copper conductors, run separately, in dual tightly twisted leads and also paired with a separate drain lead for deep bass reproduction.
2 layers of EMI noise rejecting shielding combined with a full metal braided shield to create an impermeable noise rejecting outer jacket.
 C3 Technology:
Continuous Connection Construction (C3) technology means no splices in any of the conductors from RCA end to RCA end.
Then only the best silver solder joins each of the individual 12 conductors to the RCA end resulting in crystal clear signal transmission with no coloration, uncompromised tonal accuracy, and authoritative low frequency impact.
 Audiophile Grade Construction:
All these top quality conductors are twisted around each other a second time, wrapped in a 5 layer outer jacket, and terminated with precision machined Copper RCA ends with Rhodium plating for ultimate conductivity and corrosion resistance.
The precision RCA ends are then finished with Rhodium plated RCA bodies with electrically neutral Carbon Fiber inserts. The twist-lock RCA body can clamp tight onto the RCA connection with a simple twist, making a perfect electrical connection every time.             
In order to look as good as they sound, our 9000 series interconnects include matching cosmetic transition stoppers with Carbon Fiber inserts to separate the channels from the main RCA body. Black and silver braided cotton mesh protects the flexible PVC inner jacket complementing the Carbon and Rhodium components. Also included is a beautiful wire management block for use when installing multiple Stinger 9000 series interconnects.
 The end result is Balls On Dead Accurate audio performance brought to you by our B.O.D.A. (Balanced Optimized Dual Alloy) construction. The most advanced cable available for Car Audio PERIOD! Stinger 9000 series makes it possible to . . .hear ALL of your music.
DNA
Roll over to explore 9000's DNA