Push your Jeep's bass to the limit. Experience clean, articulate, goose bump inducing bass; jam packed with every musical detail.
Engineered to overcome the lack of space hurdle where space is a premium, without compromising power and sound quality,
Designed to withstand harsh outside elements including water, dirt, dust and debris.
ENCLOSURE FEATURES
Roadkill-Armor Coat
Permanent Heat Bonded EPM (Elastomeric Polyurethane Molecule) Enclosure Coating
Weather-Resistant for Harsh Outdoor Environments
Sound Dampening Properties for Resonance Reduction
Scratch, Crack, and Peel-Resistant
Chemical and Stain-Resistant
Impact Absorption
UV Protection
Provides Leak and Corrosion Prevention
Heavy Duty 11-Layer High-Density Plywood Construction
Poly-Fill Included to Absorb Standing Waves and Reduce Distortion
Durable, Coated Steel Subwoofer Grille for Extra Protection
NOTE: For 2007-2018 JK/JKU vehicles with factory subwoofer, remove the factory subwoofer for clearance. In 2011 - 2018 model years, two OEM replacement subwoofer delete panels (1PU18DX9AD & 5XL57DX9AA) can be ordered online or acquired from a local Jeep dealer to retain the OEM look.
12" 2Ω Space Series Subwoofer
200W-600W Power Range (400W Ideal)
Weather-Resistant Design
Fiber Matrix Injection Molded Polypropylene Cone for Optimum Sound Reproduction
Durable Isoprene Polymer Surround
Powder-Coated Frame
Wrap-Sealed Rubber Gasket to Protect Enclosure Interior
THERMAL & MECHANICAL ELEMENTS
2.5" Black Anodized Voice Coil Former for Superior Heat Dissipation
Air-Cooled Ventilated Motor Topology for Providing Optimal Thermal Efficiency
High Tension Stitched Lead Wires for Increased Flexibility at High Excursion
Shallow Cone Design
Efficient Motor Design via Magentic FEA Technology
Micro Level Bonding Adhesive for Increased Strength
High-Density Ferrite Magnet
Push Type Terminals Provide Consistent Tension For a Reliable Connection
Grille Included
High-Quality Mounting Hardware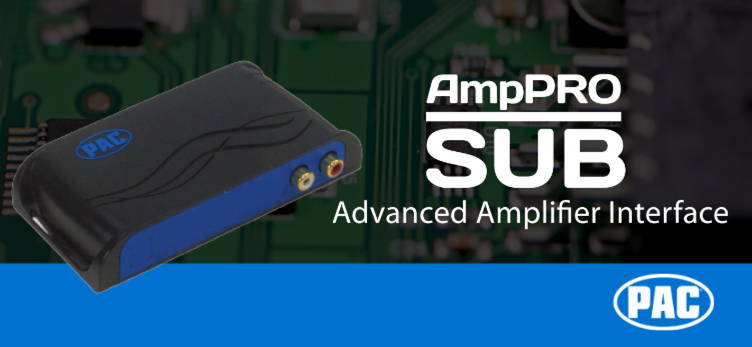 ADDING AN AFTERMARKET AMPLIFIER? YOU NEED AMPRO SUB
Allows for addition and control of an aftermarket subwoofer amplifier
Control from factory radio Like it came from the factory, but even better!
Preset and equalized Designed for the best possible sound by integrating with and optimizing factory EQ settings
Plug-n-play harnesses Allows for easy installation without permanent modification to the vehicle