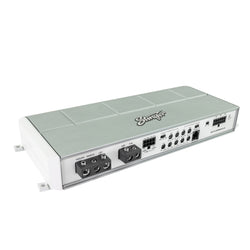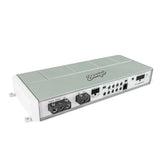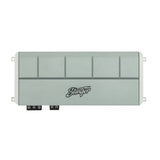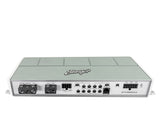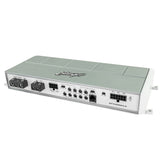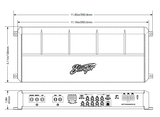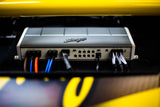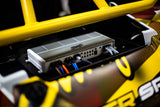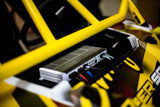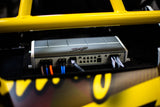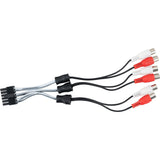 MICRO 5 CHANNEL 1000 WATT POWERSPORTS AMPLIFIER
SKU: SPX1000X5
$529.00
Description
The perfect single amp solution for Powersports, SPX1000X5; a compact, weather-resistant, full-range Class D amplifier that delivers massive power with minimal size and extreme durability, built to withstand harsh powersports applications and beyond. Featuring conformal coated PCB's to reject salt and fog intrusion and to ensure season after season of listening enjoyment. Corrosion-resistant aluminum chassis, nickel-plated termination with stainless hardware make housing to the connections bulletproof to the elements.
Also keep in control with the included remote subwoofer level controller so you can dial in that bass just the way you like it.
Get ready to turn it up and make some sound waves with the new SPX1000X5. With 150W x 4 @ 2 ohm + 500 x 1 @ 2 ohm for Sub or 95W x 4 @ 4 ohm + 275 x 1 @ 4 ohm for Sub, the SPX1000X5 is ready to power just about anything and make those sonic dreams a reality.
Ideal for off-road warriors who have limited space available, and demand ground-pounding sound. To get the most out of your system, wire one of these great amplifiers with Stinger's marine-grade amplifier installation kits featuring the only Siamese pair, dual power/ground element-resistant wire or Stinger's Harley Davidson® & Polaris RZR® specific amplifier installation solutions.  
Features
Perfect for motorcycles, ATV, marine and mobile applications
Small footprint low profile design
IPX-4/5 weather resistant design with conformal coated PCB
Full range Class D
Unregulated power supply
High Level or Low Level inputs
Diecast endcaps with removable mounting feet
Sub level control included
Aluminum Chassis
Corrosion resistant Nickel-plated connections and stainless hardware
Switchable 2 or 5ch inputs with no jumpers needed
Onboard HP/LP/Bypass Crossovers Channels 1-4
Onboard 50-250Hz LP Crossover with 0-1800

 

Phase adjustment and up to 18dB of Bass Boost (Channel 5)
RMS Power (14.4Vdc ≤1% THD):
95 x 4 @ 4 ohm Stereo - CH 1-4
275 x 1 @ 4 ohm - CH 5
150 x 4 @ 2 ohm Stereo - CH 1-4
500 x 1 @ 2 ohm - CH 5
Dimensions
300.9mm L x 130mm W x 41mm H
11.85" L x 5.11" W x 1.6" H
Specs

Frequency Response: ± 1dB from 20Hz to 20kHz
Signal to Noise Ratio: >110dB
High and Low Pass Crossovers: 12dB per Octave
Low Pass Crossover Range: 40Hz to 400Hz
High Pass Crossover Range: 40Hz to 400Hz
Sub Crossover Range: 50Hz to 250Hz
Input Range: 200 millivolts to 12 volts
Typical Efficiency: 80%
Damping Factor: Greater than 200
Recommended Fuse Size: 80 amp
Power/Ground Wire Size: 8 Gauge
Manual